Please Click Here if you do not see a menu frame on the left
Molex Flat Pin Extraction tool
For .156 and .100 connectors, work well for Gottlieb, Bally/Stern and
Williams housings to remove those corroded damaged pins. Made by Molex.
Now available with and without the plastic handle,
go economy, or if you broke your tip, put the old handle on the new one.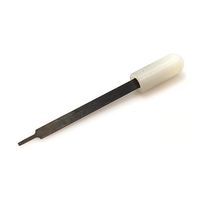 Please take a look, download & print these instructions
This device is not meant to be used as a pry bar, doing so will break the tip!!
CLICK HERE FOR INSTRUCTIONS
Crimp End Extraction Tool
With Handle

$17.50
Crimp End Extraction Tool
Without Handle

$13.50
Molex Round Pin Extraction tools
$18.00 Each
$34.00 per Pair
These are useful little tools for pulling out used pins on round .062 and .093 connector housings.
Spring loaded, made by Waldom. Currently only offering the two sizes.
Price: $18.00 each, plus shipping
Buy one of each for $34.00 and save $2.00
.062 Extraction Tool

$18.00

.093 Extraction Tool

$18.00

Extraction Tool Set
One of Each
$34.00
Thanks for your business!
Big Daddy Enterprises will assume NO responsibility for any property damage and/or injury to yourself or others that may result from the use or misuse of anything you purchase from us, including services. Sending us an order implies that you understand and agree with this disclaimer.

[Home] [Tools & Supplies]
---
Big Daddy title, background art work, and Bally logo are copyright by Williams Electronics Co.
Gottlieb logos are copyright by D. Gottlieb & Company All other content is copyright by Big Daddy Enterprises 2011 and may not be borrowed, copied,
downloaded, or reproduced in any way whatsoever without prior written consent from Big Daddy Enterprises