Please Click Here if you do not see a menu frame on the left
Plastic Fender Washers
Here's three different sizes of plastic washers, commonly called "Fender Washers". They're made from nearly-unbreakable 1/16" clear polycarbonite. Use these washers under your plastics (such as sling shot plastics) to protect the corners from the ball hitting and cracking them. I offer three different diameters, 3/4", 7/8", and 1".
I found the 1" size worked for most of the plastics on my Joker Poker, but be sure to measure first so you get the proper size. In order to provide the maximum protection, you want the washer to slightly protrude beyond the edge of the plastic, or at least be even with it.
When you get these and are freaked out because they are blue, they're not, that's a protective film.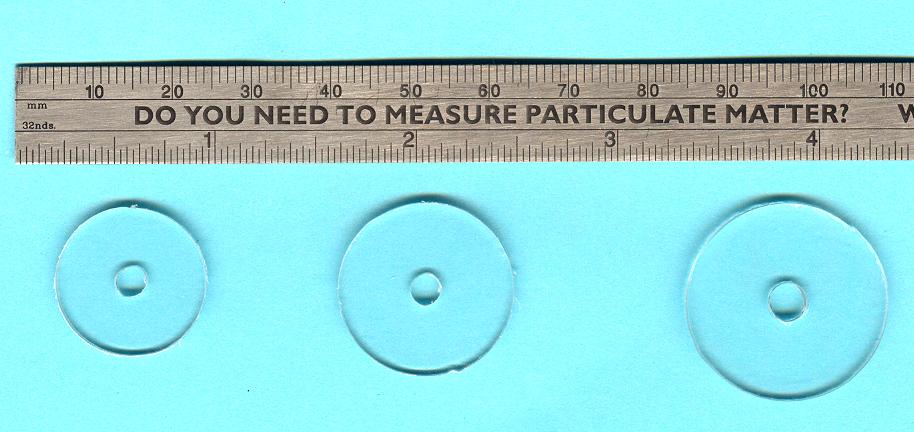 3/4"
$0.50 Each
7/8"
$0.50 Each
1"
$0.50 Each
--- Plus shipping ---

---

Buy them in Ten-Packs for a 20% savings!

---

3/4" Ten-Pack
$4.00 Each
7/8" Ten-Pack
$4.00 Each
1" Ten-Pack
$4.00 Each

Example photos: Sling Shot, Installing 1, Installing 2
Thanks for your business!
Big Daddy Enterprises will assume NO responsibility for any property damage and/or injury to yourself or others that may result from the use or misuse of anything you purchase from us, including services. Sending us an order implies that you understand and agree with this disclaimer.

[Home]
---
Big Daddy title, background art work, and Bally logo are copyright by Williams Electronics Co.
Gottlieb logos are copyright by D. Gottlieb & Company All other content is copyright by Big Daddy Enterprises 2011 and may not be borrowed, copied,
downloaded, or reproduced in any way whatsoever without prior written consent from Big Daddy Enterprises