Big Daddy's
William's WPC/WPC-S/WPC95 Pinball Repair Kits
Please Click Here if you do not see a menu frame on the left
For you do-it-yourself types - we have the following Williams repair kits.
Fuse Kits
Work in progress
Optos & Switchs
Work in progress
Note: Pictures may not reflect actual components you will receive. Physical characteristics may be different. Also, do to the nature of electronic components, we can not accept returns on any repair kit ordered. In other words, all sales are final.
We're assuming you have the knowledge and skills needed to install these kits, and that you are aware of the risks and dangers associated with working on electrical circuits. If you don't have these skills, please seek a professional to help you. You can also visit Clay's Repair Site for additional information.
Big Daddy Enterprises will assume NO responsibility for any property damage and/or injury to yourself or others that may result from the use or misuse of anything you purchase from us, including services. Sending us an order implies that you understand and agree with this disclaimer.
Please, don't forget to order the kits by name, and if you need more information or you're not sure which kit you need, just . If you want to use PayPal to process and pay for your order, just use the PayPal shopping cart buttons provided with each item.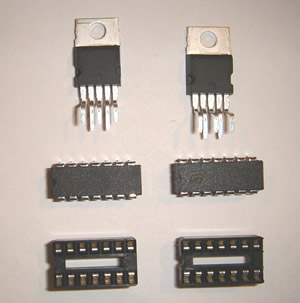 This kit contains two TDA2030A chips, two TL084 op amp ICs and two 14 pin sockets (leaf variety). If you have scratchy or intermittent sound problems, replacing these could solve your problem. You may also want to replace capacitors C20 and C21 (10,000 mfd @ 35V, not currently sold here)
WPC-95
- TDA2030A U5/U6
- TL084 U1/U2

WPC-DCS
- TDA2030A U27/U28
- TL084 U21/U29
$12.00 each
WPC-95/WPC-DC Sound Kit
TOP
BOTTOM
---
---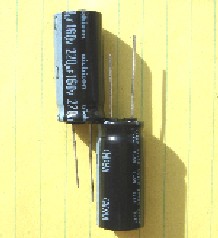 Replacing these two capacitors on your display driver board can fix what is commonly known as DMD roll.
If your display has a rolling line through it and original 150uf caps, replacing them will usually fix it.

Contains two 220uF, 160 Volt Electrolytic (radial) capacitors:

WPC-95: Caps C28 & C42 on the A/V board
WPC-S/earlier: C4 & C7 on DM Controller

$5.00
(2) 220uF, 160 Volt Electrolytic Capacitors

TOP
BOTTOM
If you have any questions, just drop us an
Thanks for your business!
All items, descriptions, prices, and availability are subject to change without notice
Pay me securely with any major credit card through PayPal!
---
Big Daddy title, background art work, and Bally logo are copyright by Williams Electronics Co.
Gottlieb logos are copyright by D. Gottlieb & Company All other content is copyright by Big Daddy Enterprises 2011 and may not be borrowed, copied,
downloaded, or reproduced in any way whatsoever without prior written consent from Big Daddy Enterprises